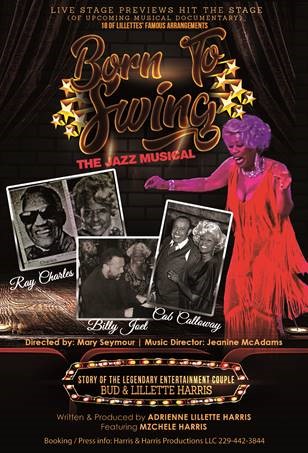 Born to Swing
When
Occurs on Friday June 24 2022
Approximate running time: 1 hour and 45 minutes
Venue
Stone Hall
502 Third Avenue West
Bradenton FL 34205
Show Notes
×
Two Distinct Jazz Eras about a Piano Legend and a Musical ChameleonBorn To Swing
is a Broadway-style musical that exposes an unknown event in music history to the world. This story is based on the life of Harlem New York-born, and former Sarasota resident legendary jazz concert pianist /entertainer Lillette Jenkins-Wisner. She rose to fame during the 1940s through the 1980s as Lillette Harris but was later known as Lillette Jenkins-Wisner.
She and her first husband Comedian, Actor and Talent Manager Bud Harris owned and operated Lillette's Rhythm Club the first African-American-owned Casino, Nightclub, and hotel in Reno-Sparks, Nevada in 1945...
Artists such as Cab Calloway, Duke Ellington, Louis Armstrong, Sarah Vaughn, Ray Charles, and most recently Billy Joel are just a handful of greats that have shared the spotlight with Lillette Jenkins-Wisner. Known as Queen Of The Keys since 1940 she still rules the throne as one of the last revered female musicians of this century. The upcoming documentary also titled "Born To Swing," tells the story of her musical journey that follows her career from her days in the USO performing for the troops in the 1940s to the present. Lillette passed away on August 25, 2020, but her legacy is carried on by her two daughters Adrienne Lillette Harris and Michele Harris-Carter. Her music is still being sought out by various record labels to record a biographical Classical Jazz CD.
The
Born To Swing
musical is exciting. It depicts the Rhythm Club events while introducing 18 of Lillette's Jazz arrangements from a variety of Broadway Shows along with choreographed dance moves and more…. It's a show not to be missed and it will benefit the fantastic Sarasota charity "Streets of Paradise" which advocates for the homeless.
As a proud former member of the Sarasota performing arts community, Lillette Jenkins-Wisner donated her time and talent for years, and she sincerely hopes everyone will rally to this most worthy cause. A donation will be given to Streets of Paradise by Lillette's Foundation for the Arts Inc. 501c3 which Lillette and her family established in 2004 to support causes she was passionate about. Lillette passed away on August 25, 2020, but her work and legacy still live on...