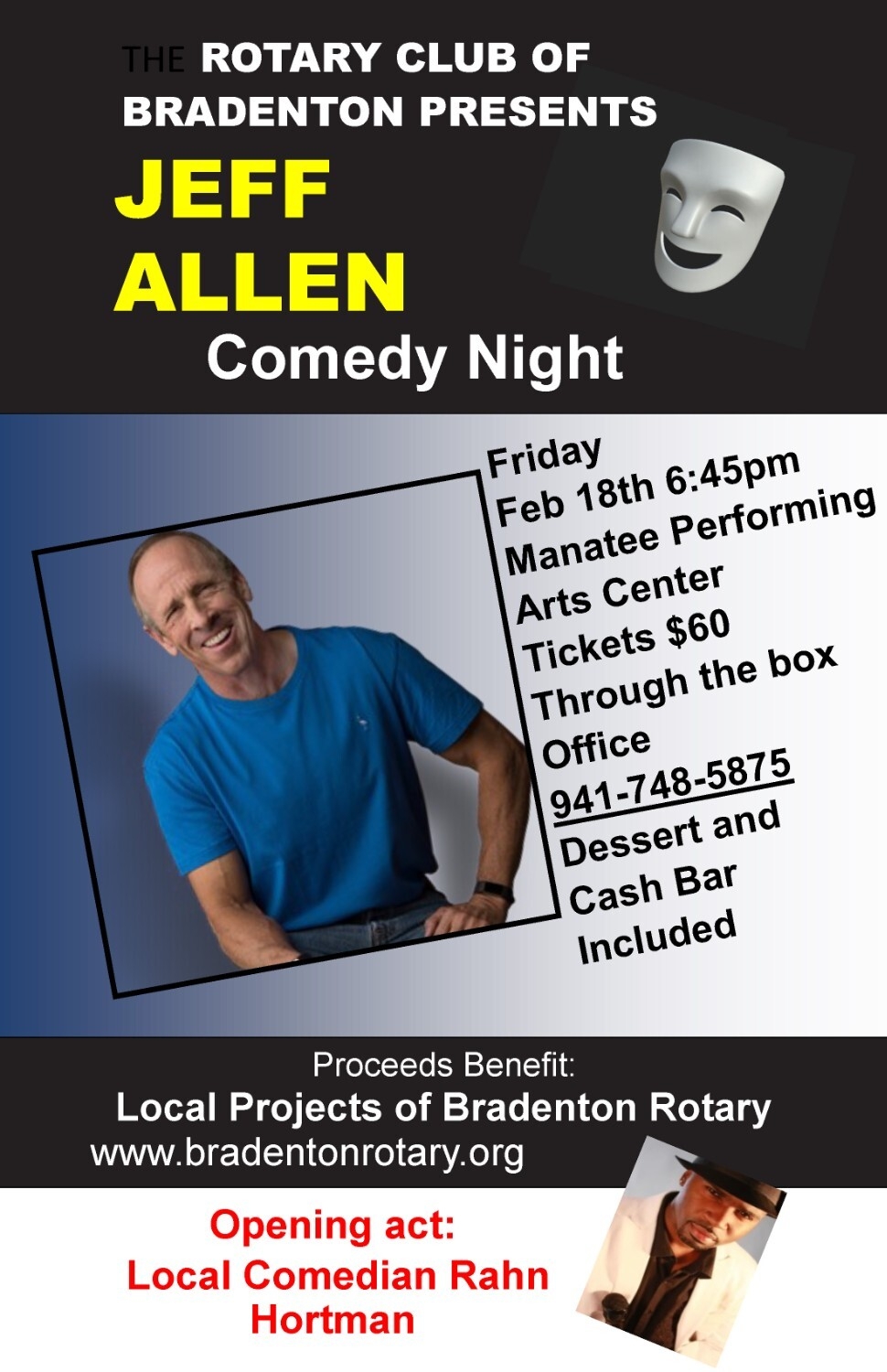 Rotary Club of Bradenton Presents: Jeff Allen Comedy Night
When
Occurs on Friday February 18 2022
Approximate running time: 2 hours
Venue
Show Notes
×
Join the Bradenton Rotary Club for the annual Comedy Night Fundraiser held this year at the Manatee Performing Arts Center. The doors will open 30 minutes prior to the start of the show in Kiwanis Hall (2nd Floor Ballroom). The ticket price will allow entry to the show, a variety of dessert offerings provided by Pier 22 restaurant, and coffee and soft drinks. There is a cash bar for alcoholic beverages. Seating is open-no reserved seats- at round tables of 8 to 10, family style.
About the Comedian
Jeff Allen's rapid-fire humor, which centers on marriage and family, is a hit with all ages. A live comedy favorite, Jeff has appeared on Dry Bar Comedy, Netflix, Amazon, Huckabee, Pureflix, Showtime, Comedy Central, VH1, and more. He starred in the critically acclaimed film, Apostles of Comedy, the syndicated comedy series, Bananas, his own one-hour comedy special, Happy Wife, Happy Life, and the Warner Bros. comedy film, Thou Shalt Laugh. Jeff has been featured at Montreal's Just For Laughs festival and HBO's Comedy Arts Festival. His Dry Bar Comedy videos have amassed over 100 million views on social media and other platforms, introducing him to tens of millions of new fans worldwide. At times both gut-wrenching and hilarious, Jeff's one-man show, The America I Grew Up In, offers a unique glimpse into his crazy world.
Besides performing at corporate functions, fundraisers, theaters, and casinos, Jeff regularly appears on television, radio, and podcasts nationwide. Jeff Allen provides world-class comedy with broad appeal.
Major Appearances
•Performed for the troops in Bahrain and on ships in the Persian Gulf and Indian Ocean
•Starred in comedy specials on: Comedy Central, Showtime and VH1
•Starring in the Bananas Comedy Television Series syndicated nationally
•Regular columnist for magazines including: Living with Teenagers, Homelife and Homecoming
•One-hour comedy special, Happy Wife, Happy Life®, on the Odyssey Channel and Family Net
•Featured in the Warner Bros. comedy film, Thou Shalt Laugh
•Starred in two Apostles of Comedy Films
•Featured on The Dennis Miller Show
•Regular appearances on the Grand Ole Opry
•Dry Bar Comedy Special – I Can Laugh About It Now
•Heard regularly on SiriusXM radio, Pandora, Spotify
•Featured on AXS TV – The Very Best of the 70's
Opening for Jeff Allen, will be local comedian, Rahn Hortman
Funny, clever, witty are just a few words that describe Rahn Hortman. His laid back style has been seen all over the country. With millions of views on social media, literally all over the world. His style allows him to find the humor in tough real life situations, making him extremely relatable and a crowd favorite.
Rahn's versatility has led him to perform on stage at churches, colleges, clubs and corporate events . Also, with some of the biggest names in comedy and entertainment. Bob Saget, Jay Mohr,Louie Anderson, and Henry Cho to name a few. In 2019 , He went on his first National Tour With Anjelah Johnson on her "Technically Not Stalking" tour. Christopher Titus describes Rahn as "Clean Not Soft." He has been invited to perform in several festivals, LAughFest (Grand Rapids) South Beach Comedy Festival (Miami) Bay Area Black Comedy Festival (Oakland) and the Ashville Comedy Festival (Ashville). He can be heard regularly on Sirius XM radio. He taped his first special "Good Game" on DryBar Comedy. He was named Creative Loafings " Best Stand Up Comedian" in 2019. 2020 is no different he actually plans to pick up the pace. Rahn Came in 3rd place out of hundreds of entries in the Jeanne Lawrence Comedy Competition . Rahn Has made Television appearances on Nickelodeon "Nick Mom Nite Out" ,Comedy Time Tv, and Mav Tv. He is currently filming the pilot episode of the sitcom "Advisors". He has a scheduled appearance on The TBN network in early spring.
Bradenton Rotary Club Foundation is a 501(c)(3) organization affiliated with Rotary International. All proceeds from Comedy Night will be used for programs that support literacy efforts in our local community.