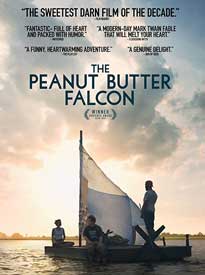 The Peanut Butter Falcon
When
Occurs on Saturday November 14 2020
Approximate running time: 1 hour and 37 minutes
Venue
Manatee River
On the Manatee River
Downtown Palmetto Pier
Palmetto FL 34221
Show Notes
×
A young man with Down syndrome teams up with a scruffy outlaw to travel across the Southeast, encountering colorful characters along the way.
Directors: Michael Schwartz,Tyler Nilson, Cast: Shia LaBeouf, Dakota Johnson, Zack Gottsagen, Production year: 2019, Rating: PG-13, Studio: Lions Gate Films, Inc.
Boats will be anchored on the West side of Palmetto Pier in front of the movie screen installed on the pier. We ask that all boats anchor at a minimum of 10' apart and that you do not raft off other boats in efforts to maintain social distancing. Movie will be set up with sound and a radio frequency will be provided on the movie screen night of for boaters to tune into for audio if needed. This area is not able to be manned for reservations. So, arrive early for your spot on the Manatee River.