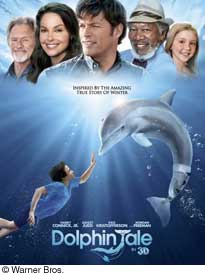 Dolphin Tale
When
Occurs on Saturday November 14 2020
Approximate running time: 1 hour and 53 minutes
Venue
Show Notes
×
The Center of Anna Maria Island Presents: Go Green 2 Speaker Series featuring: 5:30pm - Philippe Cousteau (zoom introduction), Drs. Buddy Powell and Anmari Alvarez (Clearwater Marine Aquarium Research Institute)
Stick around for a family fun free film presented by Florida Cultural Group and sponsored by our local Bradnenton Area Tourist Development Council 7:30pm – Dolphin Tale
Based on true events "Dolphin Tale" is a family film about Winter, a young dolphin who loses her tail in a crab trap and Sawyer, the introverted, 11-year old boy who befriends her. Sawyer meets the rescued dolphin at the Clearwater Marine Aquarium, a marine rehabilitation center where she lives. Sawyer rallies friends and family alike to save Winter by convincing a pioneering doctor to create a unique prosthetic attachment to restore the dolphin's ability to swim. Winter the dolphin will play herself in the movie.
Directors: Charles Martin Smith,Cast: Harry Connick Jr., Ashley Judd, Nathan Gamble, Kris Kristofferson, Cozi Zuehlsdorff Production year: 201, Rating PG
The seating will be sections into 10'10' spaces at Holmes Beach Community Park to accommodate a maximum of 6 guests. Spaces are 10' apart for social distancing. Seating is not provided so, bring your own lawn chairs or blankets. Coolers are allowed. There are public restrooms available.. Masks are required when you are not in your viewing section. We ask that you sit or lie in your section. No standing in your section in efforts not to block viewing for others. Spaces are not assigned however; a reservation is required for general admission seating. Designated parking is available. Viewing is not permitted in vehicles. Proof of reservations is required to gain entry to the movie.