A Calyp-Soul Christmas
Tuesday December 14 2021 at 7:30 PM EST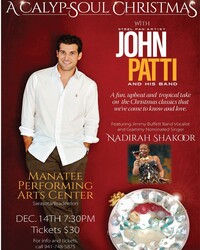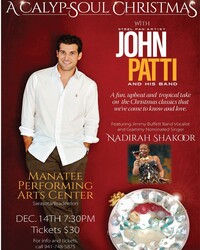 You've selected
Tuesday December 14 2021 at 7:30 PM EST
×
Songs of the Season with the Soul of the IslandsA CALYP-SOUL CHRISTMAS
kick starts your holiday season… Island style with exciting new takes on some favorite Christmas classics.
Steel pan artist JOHN PATTI combines the unmistakable sounds of the islands with jazz and soul music, complimented by breathtaking vocals and smooth R&B stylings of Grammy nominated singer NADIRAH SHAKOOR, creating unforgettable versions of your Christmas favorites! You've never heard holiday music like this!
Classics such as
Silent Night, I'll be Home for Christmas
and
Baby Its Cold Outside
, take on new life with smooth vocals, funky bass and melodic steel drum. These energetic grooves and new arrangements create a fresh Christmas sound unlike any other.
John Patti
is known for bringing the steel pan to the forefront of musical entertainment, expertly showcasing the unique island flair and history of the instrument.
With credentials including performances with Janet Jackson, Al Jarreau, Arrested Development, Cheryl Crow, Les Paul, Jerry Jeff Walker, Air Supply, Paul Overstreet, Mac McAnally and of course Jimmy Buffett, these world class musicians are guaranteed to give an unforgettable night of music and entertainment.
Venue
Stone Hall
502 Third Avenue West
Bradenton FL 34205